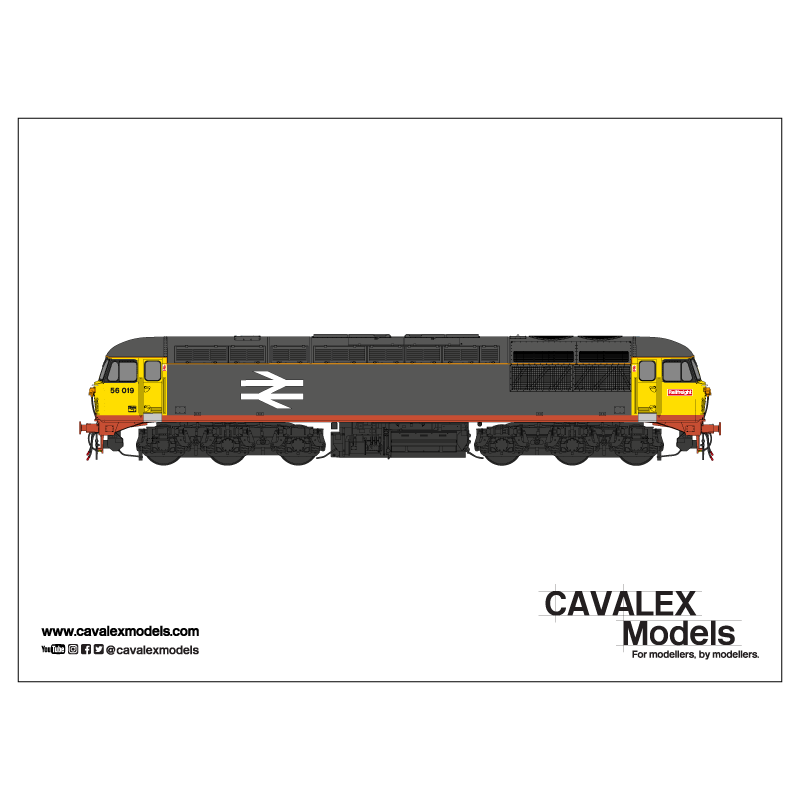  
56019 - Red Stripe railfreight - (CM - 56019 - RSR)
VAT included
We will email you to confirm delivery of out of stock items
Cavalex Models are pleased to announce our newly-tooled Class 56 in 4mm. The model is already significantly advanced and currently at the tooling stage, having been in the works for the past few years. All variants of the 56 are being tooled, to accurately cover all 135 locomotives produced between 1976 and 1984.
Price TBC. Pre Order now for FREE by selecting "Pre Order - Pay Later" at checkout. We will invoice you when the model arrives.
The Cavalex 56 has been designed completely from scratch, based on original works drawings from both Electroputere and BREL. We have incorporated numerous innovations into the model which we're looking forward to showcasing. Whilst the 56 has been released by other manufacturers in the past, it was an obvious choice for us given the prototype ran with all of our released and forthcoming wagons, and being 56 fans, we wanted to capture the distinct differences between the four main versions of the 'Grid'. We have deliberately chosen prototypes that don't conflict with existing models of the class, whilst also releasing liveries never seen in 4mm scale. This extends to liveries not seen on certain versions; for example Red Stripe Railfreight on a Romanian built Class 56.
The Cavalex 56 will be produced to the same high standard of finish as the highly regarded PGA and BBA/BLA wagons, incorporating similar levels of detail and innovation.
The locomotive will incorporate the following features:
●  A wealth of separately fitted parts, including bogies which aren't just one piece mouldings to allow for proper detail relief

●  Photo etched grilles throughout the model

●  All wheel pick up

●  Alloy chassis to allow the locomotive to pull prototypical wagon rakes

●  5 pole motor with twin flywheels, geared for prototypical running speeds with superb

slow speed control

●  21 pin DCC interface, with easy DCC fitting provision

●  DCC sound and stay alive options (Further news to follow)

●  Provision for an EM2 Speaker in the chassis as standard

●  Drop in EM/P4 wheelset packs available to order separately to coincide with the

release of the model (Further news to follow)

●  Separately motor operated roof fans via a function output on DCC, or when moving

on DC

●  Etched name plates supplied as appropriate

●  Both standard and revised cantrail grill options depending on prototype.

The Cavalex Class 56 Range - Run 1. Product codes are in the brackets
-  56008-BRBlue–(CM-56008-BRB)

-  56018-EWS-(CM-56018-EWS)

-  56019 - Red Stripe railfreight - (CM - 56019 - RSR)

-  56023 - Coal Sector - (CM - 56023 - TGCS)

-  56046 - Construction Sector - (CM - 56046 - TGC)

-  56055 - Loadhaul - (CM - 56055 - LH)

-  56070-BRBlue-(CM-56070-BRB)

-  56074 - Coal Sector - "Kellingley Colliery" - (CM - 56074 - TGCS)

-  56077 - Original Railfreight - (CM - 56077 - OR)

-  56093 - Large Logo - Tinsley Celebrity - (CM - 56093 - LL)

-  56097 - Metals sector - (CM - 56097 - TGM)

-  56120 - Large Logo - (CM - 56120 - LL)