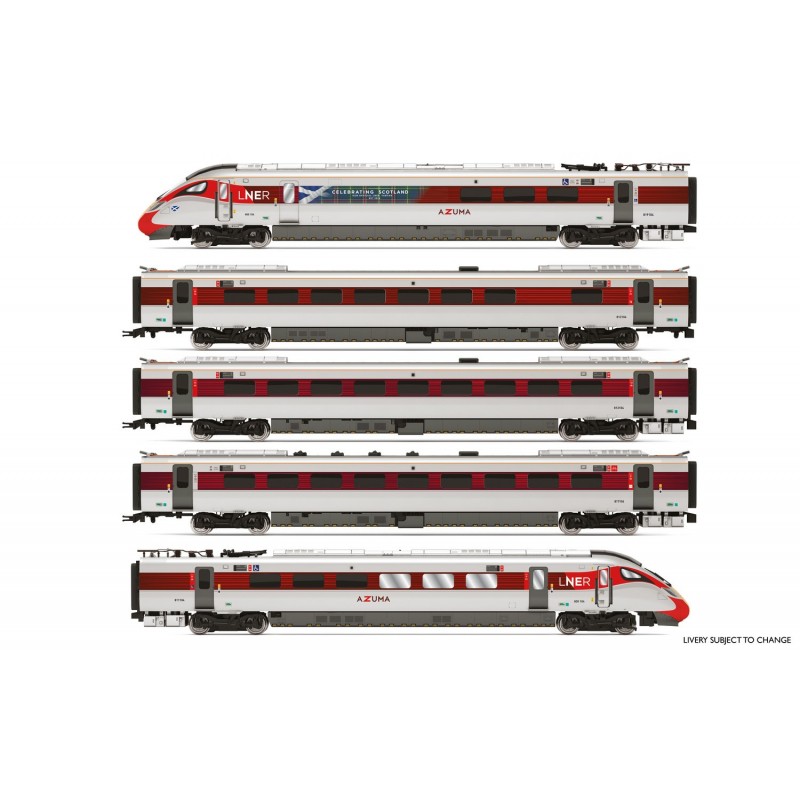  
LNER, Hitachi Class 800/1, 'Azuma' Set 800 104 'Celebrating Scotland'
VAT included
We will email you to confirm delivery of out of stock items
LNER, Hitachi Class 800/1, 'Azuma' Set 800 104 'Celebrating Scotland' Train Pack - Era 11
At KMS Railtech we take security seriously. We will not share your details with anyone outside the company. You can choose whether to join our mailing list or not. See our full T's & C's for more details.

In most cases, delivery will be £4 within the UK. You can collect items from our shop or warehouse in the Aberdeenshire area for free. We will notify you if your delivery charge needs to be changed. See our full T's & C's for more details.

Buy with confidence from us. We have a standard returns policy, see our T's & C's for full details.
Set 800 104 was chosen for the launch of the flagship 05.40 Flying Scotsman service from Edinburgh to London King's Cross on August 1 2019, along with the 17.30 return working, and for the occasion a new livery 'Celebrating Scotland' was designed, featuring a newly created LNER tartan. Designed by Ken MacDonald, of Houston Kiltmakers in Paisley, the tartan colours combine blue for Scotland, red for England, white for the Yorkshire rose, purple for the heather of Scotland, green for the rolling hills and landscape along the ECML and silver grey to represent the tracks of the railway.