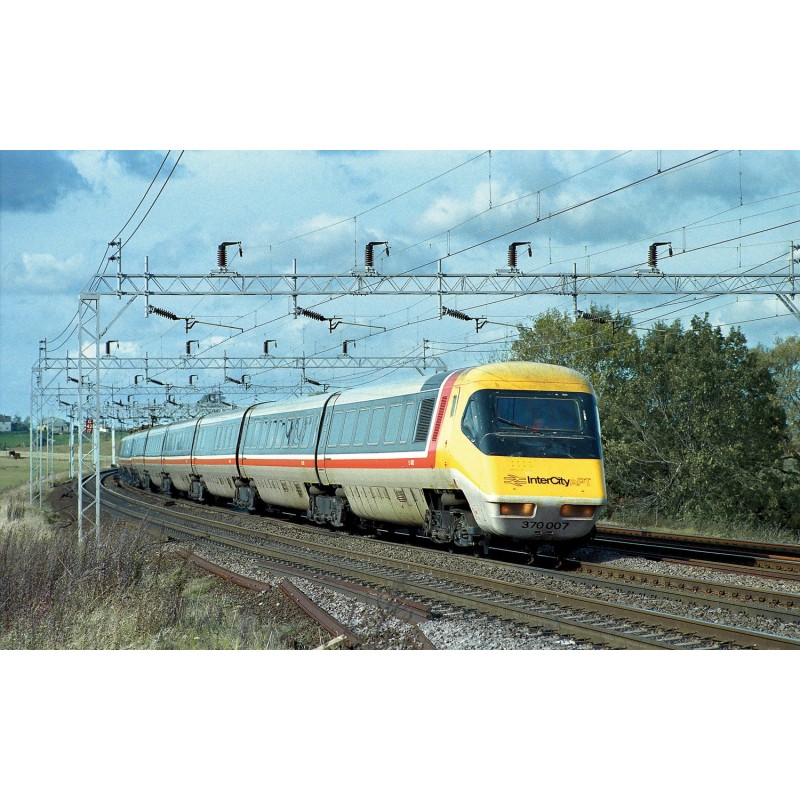  
BR, Class 370 Advanced Passenger Train, Set 370 001 and 370 002,
VAT included
We will email you to confirm delivery of out of stock items
BR, Class 370 Advanced Passenger Train, Set 370 001 and 370 002, 7-car pack - Era 7
At KMS Railtech we take security seriously. We will not share your details with anyone outside the company. You can choose whether to join our mailing list or not. See our full T's & C's for more details.

In most cases, delivery will be £4 within the UK. You can collect items from our shop or warehouse in the Aberdeenshire area for free. We will notify you if your delivery charge needs to be changed. See our full T's & C's for more details.

Buy with confidence from us. We have a standard returns policy, see our T's & C's for full details.
At the beginning of 1982, the CM&EE considered that development problems with the ATP-P project would mean that the introduction of APT-S, scheduled for 1988, would not happen because APT-P still required at least six more years to achieve an acceptable degree of reliability. Given this situation, a meeting of the BRB Railway Executive Group on 23 June 1982 laid out four options for the commercial introduction of APT as part an overall InterCity traction strategy, with the quickest solution being the APT-U option. The APT-U was to consist of two power cars, one at either end of the train, and ten passenger cars, with a proposed increase to twelve vehicles to follow. Tilt was to be incorporated, but not articulation and the anticipation of the Board was for twenty trainsets to be completed for use mainly on the London to Manchester and Liverpool routes, with selected operation to Glasgow. As this design incorporated proven equipment and dispensed with the APT-P's transfer gearbox and HK braking, it was envisaged that service operation could begin before 1989. In mid-1984, TS Sc48204 was withdrawn from Set 370 004 and sent to the Engineering Development Unit (EDU) at Derby RTC for conversion to an APT-U test vehicle, extensive rebuilding of the underframe being undertaken in order to incorporate tilting double bogies based on the BT12 units. Following completion some static testing was undertaken at Derby, as well as dynamic testing on the WCML in an APT formation, where the coach was inserted between the TBF and NDM vehicles.